Home Page
Main content starts here, tab to start navigating
Slide 1 of 3
Slide 2 of 3
Slide 3 of 3
Our patios are open!
We are serving dinner Wednesday to Sunday on our front, side & back patios.
5:30pm to 9:30pm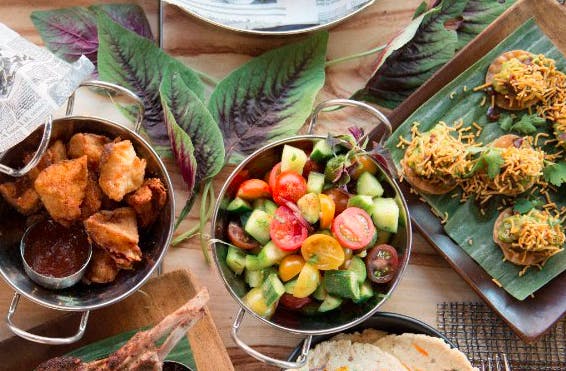 SUMMER INDIAN FEAST
ALL WEEKEND!
Take Home or Dine In
Friday, August 14th, Saturday August 15th & Sunday August 16th
MENU
featuring thao farms & coleman family farms produce
Okra Pakoras, Sungold Tomato Raita & Holy Basil Chutney
Eggplant & Heirloom Tomato Bharta
Saag with Kong's & Romeo's Greens
Goan Coconut Chicken Curry
Porchetta with Curry Leaves & Mango Chutney
Punjabi Flatbread with Heirloom Tomato Ghee
Lemon Rice with Long Beans, Zucchini & Cilantro Flowers
Moringa Leaf Red Lentil Dal
Coconut Rice Pudding, Golden Raisins & Cashews
Please call 310.845.1700 after 5:30pm
to order take-out from our dinner menu.
Brunch This Weekend!
Saturday & Sunday 10am to 3pm.
MENU HERE
An all day menu is available for takeout or dining on our patios, Wednesday to Friday
11:30pm to 5:30pm
AKASHA AT HOME
Our AKASHA at Home service was our response to the initial closing of all restaurants due to COVID 19. We are continuing the service with delivery, curbside & in store pick up in our marketplace. We have been busy making jams, preserves, pickles, chutney, granola, & our Bombay Snack Mix. We also have some of our favorite pantry provisions for sale, and each one includes a recipe from Akasha. Akasha has also curated some of her favorite olive oils, wines, Italian foods, snacks, and chocolate. We also have cocktails to-go, wine, beer, coffee & cold drinks. For a full At Home Menu, click here. We are so grateful for all of your support during these challenging times.
photo: anne fishbein
HOW TO PLACE AN ORDER
Our AKASHA at Home takeaway menu is available all day for pick-up or on-demand delivery.
Deliveries ordered via ChowNow are delivered by Doordash drivers. Please note: ChowNow pick-up orders can be placed in advance, but ChowNow delivery orders must be placed on the day and time you want to receive your order. If you prefer a delivery made by our staff, please call us!
COVID-19 SAFETY AT AKASHA
We are committed to going above and beyond what the city requires from restaurants in 2020 and beyond.
Our refresh includes a newly built back patio, strict cleaning and sanitizing of all areas, hand sanitizer throughout the building, gloves and masks, social distancing stickers, plexiglass, single-use menus, and new protocols for our kitchen and front of house.
All of our front of house staff are wearing face masks and shields. We kindly ask that you wear a mask as well inside our building and on our patio.

We continue to shop the farmer's markets weekly for fresh ingredients, so menus - especially vegetables - are subject to change based on market availability.
Thank you for supporting AKASHA, our team, local farmers in California, and sustainable suppliers.
HOW TO ORDER
Order online or call to place your order. If an item on our menu is not on our ordering site, then the dish is sold out for the day.
PICK-UP & DELIVERY
Call us when you arrive at our back entrance with the name of your order. Or you can come into our new marketplace, which was formally our cafe. Our team will bring your order outside for safe, contactless pick-up. Deliveries are made by Chownow/Doordash, or call us for delivery by our staff.
PHONE & EMAIL
(310) 845-1700
catering@akasharestaurant.com
ADDRESS
9543 Culver Blvd. Culver City, CA 90232
HOURS OF OPERATION
Our marketplace is open Tuesday to Sunday
Tuesday 11am to 7pm
Wednesday to Sunday 11am to 8pm

Lunch 11:30a.m. to 3p.m. Wednesday to Friday
Brunch 10a.m. to 3p.m. Saturday & Sunday
Dinner Wednesday to Sunday
5:30p.m. to 9:30p.m.
Friday & Saturday 5:30p.m. to 10:30p.m.