Home Page
Main content starts here, tab to start navigating
Hanukkah
HANUKKAH DINNER SPECIALS START SUNDAY

"Latkes & Vodkas"
Vodka Cocktails
Chopped Chicken Liver
Pletzel Bread
Old School Brisket
Tangerine Braised Chicken
Latkes & Apple Sauce
Hanukkah Cookies
Make a Reservation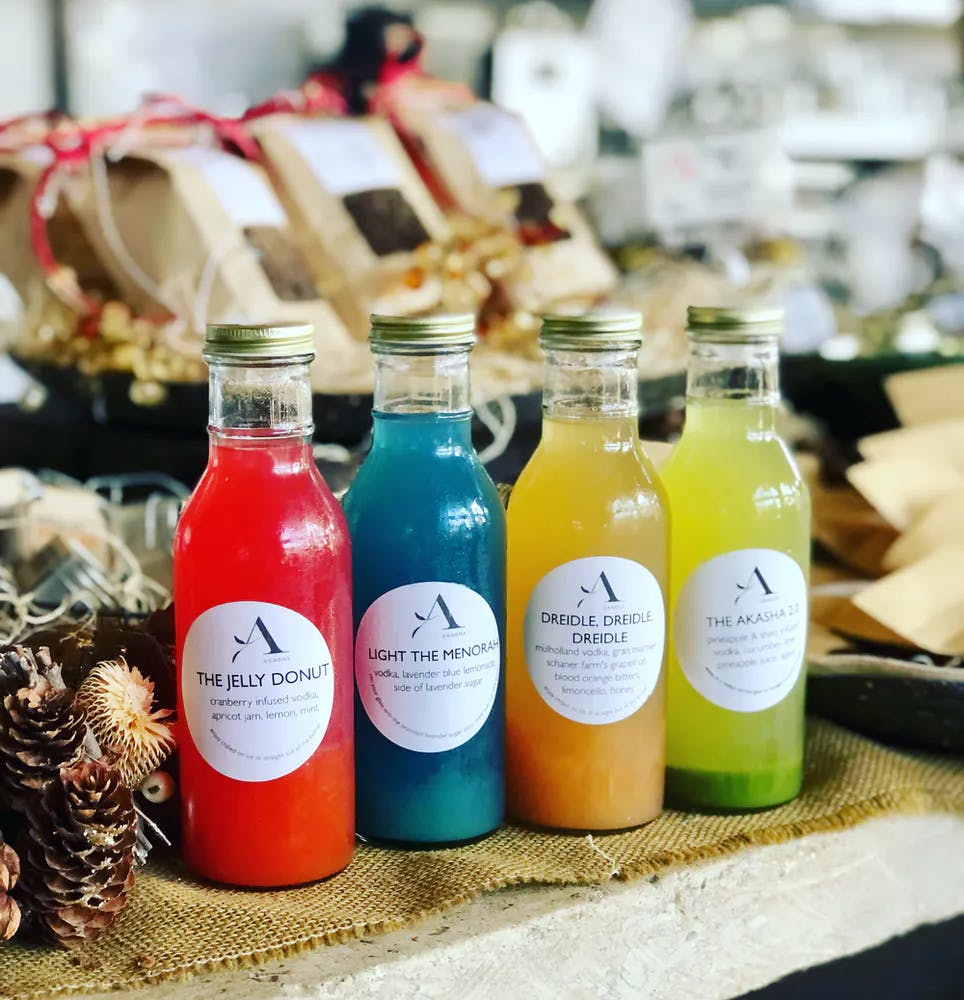 HANUKKAH TAKE OUT & DELIVERY
Available Sunday November 28th to December 5th
(Closed Monday & Tuesday)
Orders must be placed 48 hours ahead

VODKA COCKTAILS
cocktails are pre-mixed in 12oz (2-3 servings) glass bottles

dreidel, dreidel, dreidel
drake's organic vodka, frangelico
pink grapefruit, blood orange bitters $25

the jelly donut
apricot jam, cranberry infused vodka
lemon, mint $25

light the menorah
vodka, lavender blue lemonade
meyer lemon $25

the AKASHA 2.0
pineapple infused vodka, green juice
agave, lime & pineapple juice, $25

STARTERS & SNACKS
winter chicory & 'garden of' lettuce salad
manchego, dried apples & candied pecans
honey-balsamic vinaigrette
(serves 2), G-F $25

chopped mary's chicken liver
hard cooked eggs, onions & schmaltz
(1/2 pint, serves 2-4) $10 g-f

green pea & walnut vegan faux "liver"
(1/2 pint , serves 2-4) $8
vegan & g-f

challah pletzel bread
challah dough baked with a topping of
onions, poppy seeds & sea salt
(serves 4) $10

ENTREES
slow braised grass-fed brisket
grass fed beef, akasha's old school recipe
with lots of onions in a brisket gravy
(serves 2) $40 g-f

tangerine braised chicken
onions, olives & date syrup
(serves 2) $36 g-f

SIDES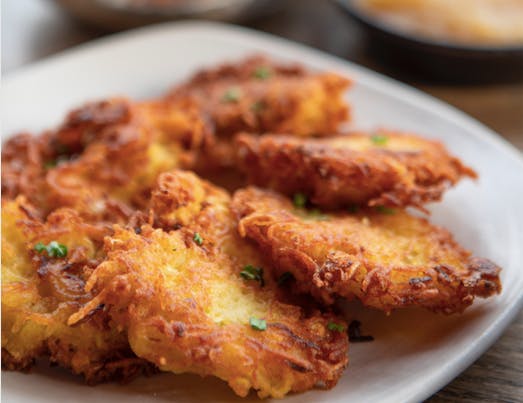 yukon gold potato pancakes
(keep latkes frozen until heated)
(1/2 dozen) $10 g-f

+ smoked salmon, sour cream & chives $12

+ fair hill farm's house made apple sauce
cane sugar & lemon, 1/2 pint $8 g-f

roasted market vegetables
rainbow cauliflower, carrots
brussels sprouts, heirloom squash
red onions, theo's blood orange oil, herbs
(serves 3-4) $22 vegan & g-f

sweet noodle kugel
wide noodles, ricotta, cottage cheese
golden raisins & sour cream
(serves 4) $20

DESSERT
hanukkah cookie box
pecan snowballs
chocolate dipped & plain macaroons
chocolate-hazelnut rugelach $16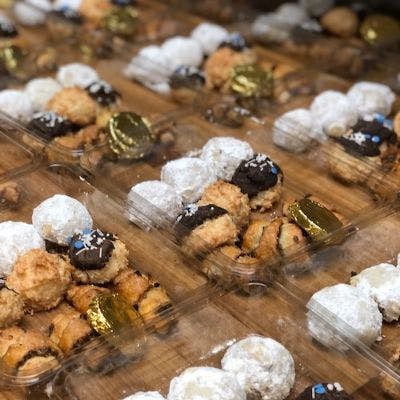 Join us for
Breakfast
Wednesday, Thursday & Friday 8 a.m. to 10:30 a.m.
Lunch
Wednesday, Thursday & Friday 11:30 a.m. to 2:30 p.m.
Dinner
Wednesday, Thursday & Sunday 5:30 p.m. to 9:30 p.m.
Friday & Saturday 5:30 p.m. to 10:30 p.m.
Happy Hour
Wednesday to Sunday
4p.m. to 6:30p.m.
Brunch
Saturday & Sunday 10 a.m. to 3 p.m.
OUR ADDRESS
9543 Culver Blvd. 90232
CONTACT US
310-845-1700 or catering@akasharestaurant.com
PARKING
One-hour free parking is available in a public lot on Watseka Avenue, behind the restaurant, with additional public parking and metered spaces within a 5-minute walk. AKASHA does not validate parking at this time.