Main content starts here, tab to start navigating
THANKSGIVING AT HOME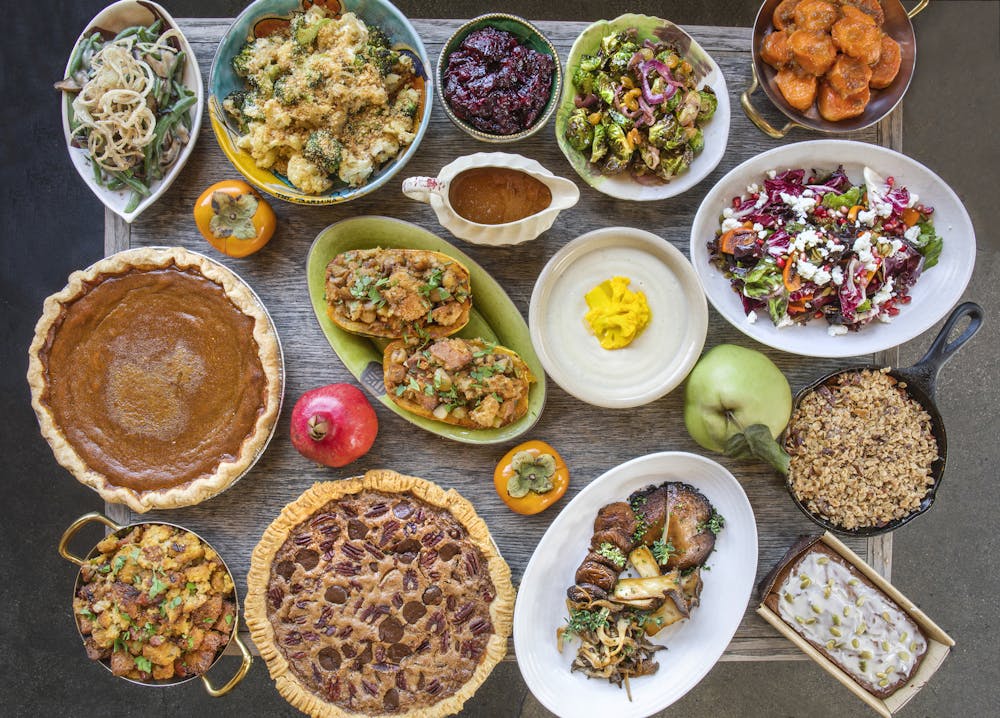 photo credit - anne fishbein
From Akasha:
Thank-you so much for having us prepare your Thanksgiving meal. It truly is my favorite holiday of the year, & this is the first time in twelve years we cannot open our dining room, so it really means a lot that you ordered your food from us. Happy Thanksgiving!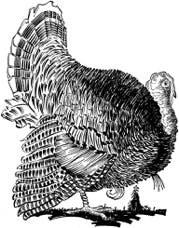 HOW TO ROAST A BRINED TURKEY
Preheat oven to 350° with rack in the lowest position. Your turkey is dry brined with salt-you don't need more. Loosen skin: Working from the neck end, slide fingers under skin until you reach the end of the breast, being careful not to tear the skin; rub herb butter under the skin, rub the remaining butter all over the turkey. Add ½ the turkey stock to the pan. Tent turkey loosely with foil. Roast 1 hour, then baste every 30 minutes with turkey stock, until an instant-read thermometer inserted into the thickest part of thigh (avoiding bone) registers 125 degrees, about 20 minutes per pound. Remove foil; raise oven heat to 375 to 400 degrees. Continue roasting, basting occasionally with stock (add more to the pan if needed), until thigh reaches 180 degrees. Tent with foil if bird browns too quickly; add more stock or water if needed. Transfer to a serving platter; cover loosely with foil, and let it rest at least 30 minutes before carving.
tamai farms cauliflower bisque V GF
Heat soup to a low simmer, garnish each bowl with some pickled cauliflower.
romeo's lettuces & persimmon salad GF or V
The lettuce is from Coleman Farms & the persimmons & pomegranates are from Laura at JJ's Lone Daughter Ranch. Vegan version: we make the almond cheese in house, marinated in olive oil & herbs.
akasha's bombay snack mix V GF
Perfect with a cocktail before dinner!
seasonal crudité & hummus V GF
Featuring seasonal vegetables from our local farmers.
spiced mixed nuts V GF
Cashews, almonds & pecans with olive oil, maple syrup, sea salt & fresh herbs.
marinated olives V GF
California olive oil, lemon & herbs.
oven-ready brined turkey
Instructions on the wrapped package.
turkey breast or dark meat (fully cooked) GF
Remove cover, cover with foil, heat at 350° degrees for 15-20 minutes. Don't overcook.
herb roasted mushrooms V GF
Remove lid, heat uncovered at 350° for 15 minutes.
yukon gold mashed potatoes or vegan GF
We start with organic yukon gold potatoes which we think makes the best mashed potatoes. The vegan version is made with oat milk & vegan oat butter! Remove plastic lid, heat covered at 350 for 20 minutes.
macaroni & cheese with paprika breadcrumbs
This has been on our menu since day one! Remove the lid & heat uncovered for 25 minutes at 350°.
candied local sweet potatoes V GF
This recipe is from a Southern cookbook, but we updated it with rice flour instead of AP flour, so it is gluten-free. The yams come from Rocky Canyon Farms, a great local farmer. You can always add your own marshmallows. Remove the lid & heat uncovered for 25 minutes at 350°.
olive oil roasted brussels sprouts V GF
The brussel sprouts come from Milliken Farms & the onions are from Peter Schaner of Schaner Farms, one of the finest farms & farmers in Southern California. Remove the lid & heat uncovered for 20-25 minutes at 350°.
green bean casserole GF or V green bean casserole
This is my version of the classic recipe. Years ago, we started making our mushroom sauce with rice flour, & found that we liked the sauce better that way. Remove lid, heat uncovered at 350° for 20 minutes or until bubbling.
broccoli & cauliflower gratin GF
The sprouting cauliflower is from Thao Farms, Farmer Kong from Thao, is a favorite of every chef.
turkey pan gravy GF
We put a lot of love into our pan gravy. We start with rich turkey stock, simmered with marsala, herbs & butter. We pan drippings from all the turkey we roast use rice flour, which makes a delicious gluten-free gravy! Heat to a simmer in a saucepan.
porcini & wild mushroom gravy V GF
Your don't have to be vegan to love this gravy! Heat to a simmer in a saucepan.
akasha's cranberry chutney V GF
This recipe comes from my friend Rick Rodgers who wrote Thanksgiving 101, the best Thanksgiving cookbook you can possibly own. We also sell shelf stable jars online or in our marketplace, makes a great gift!
roasted chestnut & herb stuffing
I have been perfecting this recipe for many years. It is a classic stuffing made with lots of herbs & chestnuts. Remove lid, heat uncovered at 350° for 25 minutes. If you transfer into your own dish, don't pack too deep or tight, it bakes better the way we packed it.
delicata squash with chestnut & herb stuffing V
The vegan version of our chestnut stuffing. Remove lid, heat uncovered at 350° for 25 minutes.
cornbread & sausage stuffing GF
Every year I try and improve this recipe, & I think this year is the one! Our chef Gavan Lonsdale made the pork sausage that adds so much to this stuffing. Remove lid, heat uncovered at 350° for 25 minutes.
corn muffins GF
Remove lid, heat uncovered at 350° for 10 minutes.
vegan parker house rolls V
We gave you a bonus roll, since seven fit better in the pan. I like to wrap these in foil and heat at 350° for 10 minutes.
pies - gluten-free noted on the box
I am so sad not to create our annual pie buffet at AKASHA this year, since we look forward to it every year. Keep all pies refrigerated until a couple hours before serving. The apple crisp should be heated uncovered for 15-20 minutes at 325°. My go-to Thanksgiving leftover is a slice of pie for breakfast on Friday. I am especially proud of our gluten-free crust!
cocktails
pomegranate & persimmon pimm's
We make our Pimms by infusing pomegranate & persimmons in vermouth, gin & grand marnier. Serve over ice in a glass.
apple cider & spiced rum punch
The herbal cordial recipe in this punch comes from our friend Maria Grammatico, a famous Sicilian pastry chef. We started it in July by infusing 151 proof white rum with lemon verbena, cinnamon, lemon, sugar, mint & cloves. We sell bottles of the cordial in our marketplace. Serve over ice or heated as mulled cider.
cranberry vodka gimlet
We start with fresh cranberry infused vodka, add elderflower liqueur, lime, ginger & agave. Serve straight up or over ice in a glass.