Main content starts here, tab to start navigating
AKASHA AT HOME MENU
AKASHA At Home is designed for re-heating and eating at home. Most of the dishes come cold, frozen items ate noted. You can order online or by phone - 310.845.1700. Delivery is done with ChowNow, but if you are out of the delivery zone, please call and with advanced notice we can arrange a delivery with one of our staff. Curbside pick up is also available, and we carry a selection of our AKASHA at Home dishes and more in our marketplace everyday. Each dish is designed for heating in a home oven.
AKASHA AT HOME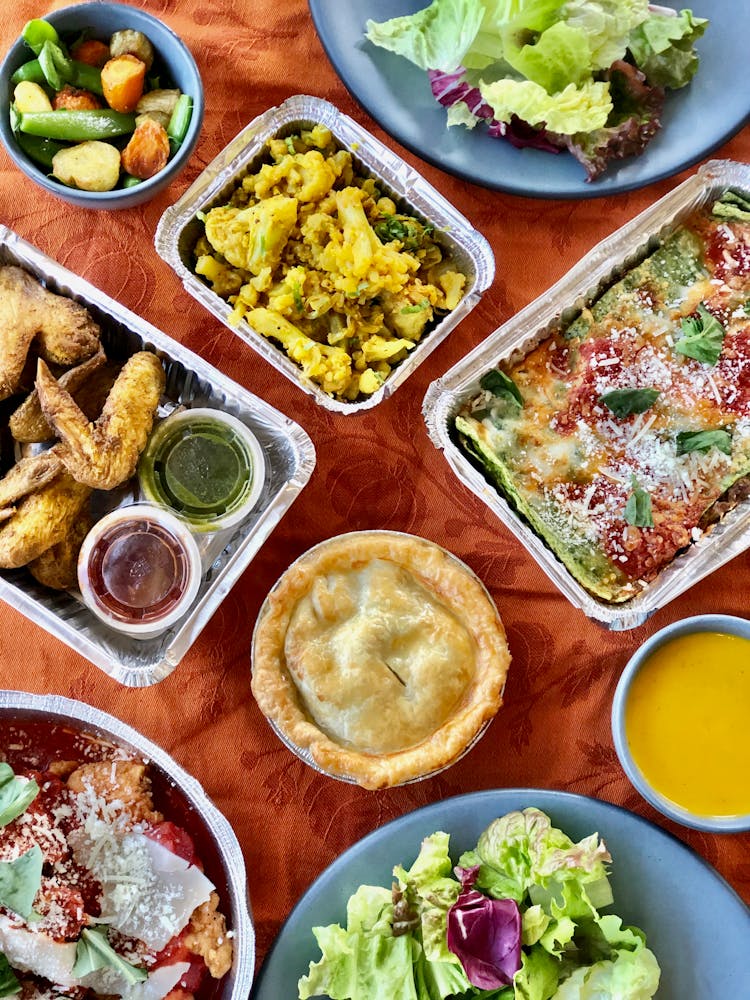 COCKTAILS 12 oz. each
summer 'pimm's': house strawberry & apricot pimm's
ginger, cucumber, lime, shisho $25
the akasha 2.0: pineapple shisho infused vodka, cucumber, lime, pineapple juice $25
peach old fashioned: tenerelli farms peach infused bourbon, angostura bitters, agave $32
kentucky bubble bath: rye whisky, cynar,
lemon, lavender tea $25
aeolian dreams: gin, lime, fresh arugula, agave $25
plum margarita: ume plum infused tequila
red plum syrup, lime $25
wines by the bottle
see our online ordering menu for our current wine list


SALADS & SMALL PLATES
chickpea hummus, kalamata olives, olive oil, crudite $9
beet & avocado salad, local greens, radish, cherry tomatoes, sunflower & sesame seed, miso vinaigrette $12 g-f
kale caesar, olive oil croutons,
grana padano, caesar dressing $11
baby organic spinach, heirloom tomato, ricotta salata, red onion, kalamata olives, red wine vinaigrette $12
+shrimp $6 g-f
chopped, little gem, tomatoes, chickpeas, pepperoncini, olives, provolone, salami, parm, red wine dressing $12
add to any salad: salmon $9, grilled chicken $3,
tuna salad $5, grilled shrimp $6
BREAKFAST AT HOME
bacon-cheddar biscuits:
two frozen take & bake biscuits with honey butter $7
blueberry & apricot scones: (frozen take & bake) $6
walnut-apricot jam scones: (frozen take & bake) $7
banana walnut bread $4 g-f
akasha's granola 1lb bag $15 g-f
intelligentsia ground espresso beans, 1 lb bag $15
intelligentsia whole espresso beans, 1 lb bag $15
AKASHA'S SPECIALS

NEW – matt's 'plasto' -a greek spinach & feta pie with a cornmeal crust- $13.50 g-f
thao farm's eggplant parm, nonna's tomato sauce, grana padano (serves 1-2) $12
fried chicken-thigh & wing, coleslaw, honey-mustard, pickled peaches (serves 1) $16 g-f
st. louis style pork ribs, bourbon-peach bbq sauce, corn on the cob, slaw $24 g-f
corn, zucchini, squash blossom & tomato butter risotto, pecorino & reggiano (serves 2) $16

faroe island salmon, creamed corn, grilled green beans & torpedo onions, olive oil $26 g-f
turkey meatloaf, ketchup glaze (serves 3-4) $20 g-f
FOR YOUR FREEZER
romanesco zucchini & spinach puree 1 pint $6

summer corn puree 1 pint $7

'chasen's' chili with pinto beans & 'wanderer' beef $10

½ dozen potato pancakes $10 g-f

chicken pot pie, flakey crust, peas & carrots (serves 1) $10

shiitake mushroom pot pie, flakey crust, mushroom gravy potatoes, peas & carrots (serves 1) $10
TAKE & BAKE
fully cooked, just needs to heat
tandoori chicken wings, chaat masala
tamarind chutney & mint relish $15
turkey meatballs, nonna's tomato sauce,
grana padano (4 meatballs) $14 g-f
skillet macaroni & cheese, gruyere & cheddar,
breadcrumbs (serves 1) $6
chicken enchilada, beans, mole sauce, cheese
(serves 2) $16 g-f
chicken 'parm', nonna's sauce, mozzarella,
grana padano (serves 2) $16 g-f
FOR YOUR PANTRY comes in glass jars, keep refrigerated
chicken bone broth, ginger, mushroom, leeks 16oz. $7
nonna's tomato sauce, dinapoli tomatoes
onions, basil 12oz. $4.50
bali curry sauce, coconut milk,
lemongrass, shallots, spices 12oz. $8
akasha's tomato chutney, apples, ginger, raisins 8oz. $4
torpedo onion jam- great with cheese 4oz. $4
ROMAN PIZZA
fully cooked pizza, served cold to heat at home,
or we can heat for you (serves 2)
tomato, basil, mozzarella, parm $8

vegan tomato & mozzarella $8

squash blossoms, goat cheese, pecorino, olive oil $10

pepperoni, tomato, basil, mozzarella, parm $10

turkey meatball, tomato, basil, provolone $10
VEGETABLES & SIDES - all are g-f
grilled artichoke, olive oil & meyer lemon, basil aioli $8
honey glazed green beans & carrots, toasted almonds $11

gluten-free corn muffins $3 each
SWEET

tenerelli orchard's peach cobbler (serves 1) $8
key lime pie, whipped cream (serves 1) $8
berry-citrus cake with lemon glaze $4 g-f
dark chocolate pound cake slice $4 g-f
banana-walnut bread slice $4 g-f
g-f oatmeal-cherry-chocolate chip cookie $2
triple ginger cookie $2
snickerdoodle cookie $2
g-f tahini-chocolate chunk cookie $2
frozen take & bake of any cookie (1/2 dozen) $12
FOR YOUR PANTRY
made or packaged in house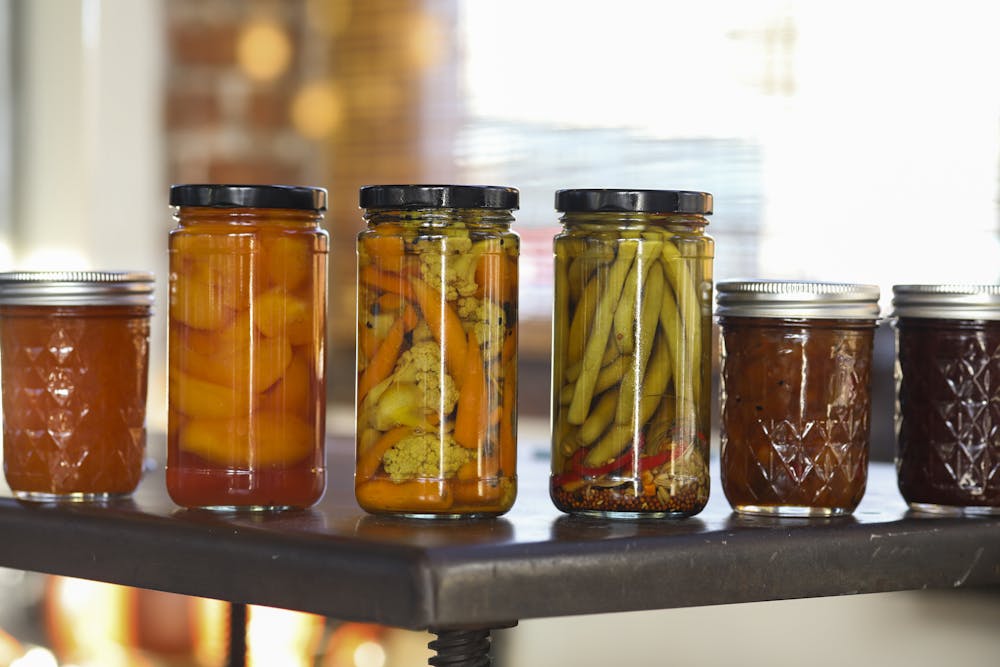 photo -anne fishbein
akasha's mango chutney 8oz $10
plum-zinfandel preserves 8oz $10
'see canyon' blenheim apricot jam 8oz $12
bombay snack mix, sev, cashews, peanuts, raisins,
moong dal, spices 6oz $5
organic red lentils +soup recipe 1.5 lbs $4
organic mung beans +mung bean & rice recipe 1.5 lbs $4
french green lentils +ragu recipe 1.5 lbs $5
chickpea flour +pancake recipe 1.5 lbs $4
black rice 1.5 lbs $8
quinoa 1.5 lbs $5
caputo pasta flour +pasta dough recipe 2 lbs
g-f rolled oats +cookie recipe 2lb $4
king arthur all-purpose flour +scone recipe 2lb $2.25
65% dark chocolate disks +cookie recipe $4.50
ALL DAY MENU
Wednesday to Friday
11:30a.m. to 5:30p.m.

salads
tuscan kale caesar grana-padano,
olive oil croutons 12
milliken farms beets & avocado local lettuce,
cherry tomato, radishes
sesame & sunflower seeds, miso-sesame dressing 14
chopped salad lettuce, tomato, chickpea, provolone, salami, parm, pepperoncini 12
mista salad romeo's greens, radish, cucumber,
lemon vinaigrette 7
add to any salad: faroe island salmon 9 grilled chicken 3 tuna salad 5 grilled shrimp 6
burgers & sandwiches
'beyond meat' patty melt rye, russian dressing, vegan gouda, caramelized onions 16
wanderer barley fed beef burger burger sauce, shredded lettuce, tomato, red grilled onion
dill pickle chips, cheddar or gruyere 16
add bacon & onion rings +3
spiked turkey burger mixed with green olives, jalapeño, red peppers & onion
paprika aioli, lettuce, tomato, cheddar or gruyere 15
wild albacore tuna melt sourdough toast, tomato
bread & butter pickles, cheddar 15
fried chicken gluten-free crusted chicken breast
bread & butter pickles, slaw, sriracha mayo 15
served with salad, slaw, soup or fries substitute onion rings +2 gluten-free bun +2
rice flour crusted onion rings
with paprika aioli & ketchup 8
french fries with ketchup 7 •
sweet potato fries with ketchup 7
(our fryer is gluten-free)
soup of the day cup 5 bowl 8
roman style pizza
tomato, mozzarella, parm (available vegan) 10
turkey meatballs 13 pepperoni 10
comes with arugula salad, pecorino cheese & balsamic vinaigrette 11
drinks
ice tea 2.85 lemonade 4 flat water 2 sparkling water 2.5 boylan sodas 2 numi ice tea 2.99