Main content starts here, tab to start navigating
Rosh Hashanah At Home
Orders must be placed by Tuesday September 15th. Please call 310.845.1700 or email catering@akasharestaurant.com. Early orders are appreciated, given our current situation and availability of ingredients. Thank-you for your patience during this time, we are so grateful to be able to continue to work and serve our community. We will begin deliveries on Friday September 18th, and pick-ups will be available starting at 12 noon.
PLEASE NOTE:
ALL FOOD COMES FULLY COOKED BUT CHILLED
IT IS READY FOR RE-HEATING AT HOME
HEATING INSTRUCTIONS WILL BE PROVIDED WITH EACH ORDER
WE CANNOT TAKE ANY ADDITIONAL FRIDAY ORDERS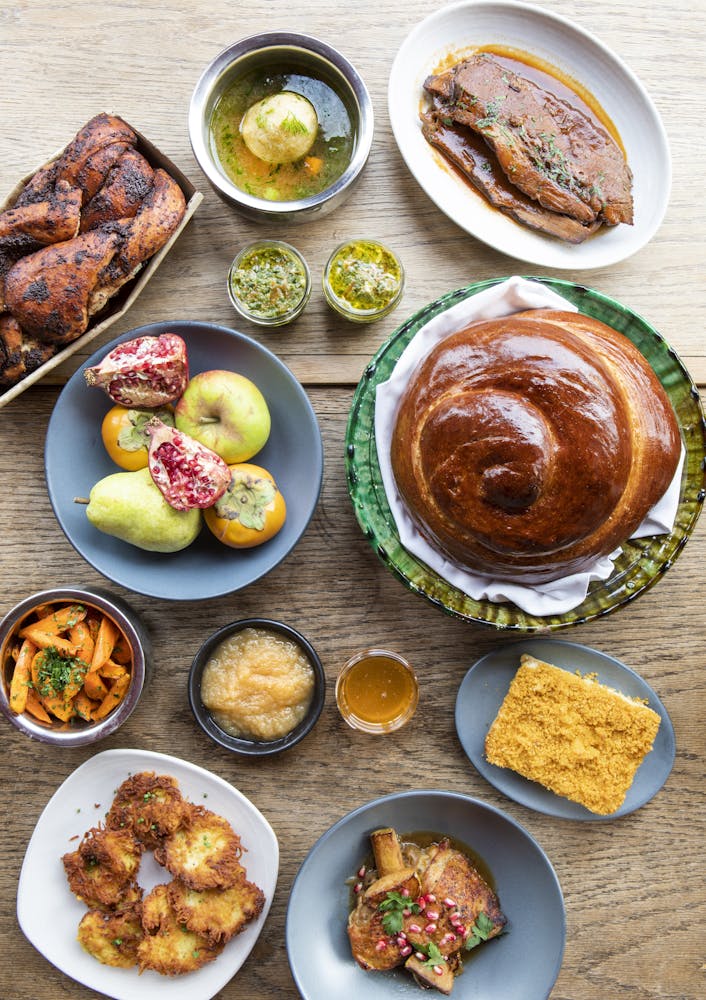 ROSH HASHANAH-THE JEWISH NEW YEAR
curbside pick-up & delivery
September 18th, 19th, 20th
APPETIZERS
chopped chicken liver (pint, serves 4-6) 20
green bean & walnut faux "liver" (pint , serves 4-6) 15
ESSENTIALS
spiral shaped olive oil & honey challah 10
matzo ball soup, celery, carrots, parsley, dill
(serves 2) 14
new fruits & local honey, apples, pears & pomegranates (serves 2-4) 12
ENTREES
braised beef brisket (serves 2) 36
roast chicken, quince & caramelized onions (serves 2) 28
SIDES
yukon gold potato pancakes (1/2 dozen) 12 g-f
smashed weiser farm's potatoes, olive oil & chives (serves 2) 12 g-f
fairhill farm's housemade apple sauce (1 pint) 10
noodle kugel, raisins, cottage cheese & sour cream (serves 3-4) 20
tamai farm's green beans with capers & cherry tomatoes (serves 2) 12
olive oil roasted tutti-frutti farm's carrots, herb gremolata (serves 2) 12
DESSERT
chocolate babka loaf, almond streusel 24
apple-honey cake (serves 4) 20
chocolate dipped coconut macaroons (1/2 dozen) 9 g-f
DRINKS
READY MADE COCKTAILS
cocktails conveniently
pre-mixed and ready in 12oz (2-3 servings) glass bottles.
A Sweet Year
A special 'High Holidays' cocktail made with fairhill farms apple infused bourbon, lemon, sukkah hill etrog liqueur, honey $32.00
'The AKASHA 2.0
We infuse vodka with pineapple & shisho,
shake with green juice, lime and pineapple juice $25.00
Pimm's Cup
We make our own Pimms by infusing gin, sweet vermouth, grand marnier with strawberries, plum & mint, shake with ginger, cucumber, and lime. Shisho garnish. $25.00
WINES BY THE BOTTLE
WHITE
Anaba Rhone Blend (Viognier Grenache Blanc, Roussane, Marsanne)
Sonoma Valley, CA 2016 $36.00
Feudi Branciforti dei Bordonaro Grillo, Sicily $30.00
Hommage Du Rhône Châteauneuf-Du-Pape Blanc, France 2014 $30.00.
ROSE
San Felice, Perolla Rosato Tuscany, Italy 2019 $35.00
RED
Santo Stephano, Rutherford Cabernet Savignon
Napa Valley, CA, 2016 $35.00
Sella & Mosca Cannonau di Sardegna Riserva, DOC, Italy 2015 $40.00
San Felice Rosso di Montalcino, Toscano, Italy, 2016 $45.00
exclusive of service charge & tax
Patio Dining-Rosh Hashanah
September 18th, 19th & 20th
dinner 5:30 to close
SPECIALS IN ADDITION TO OUR MENU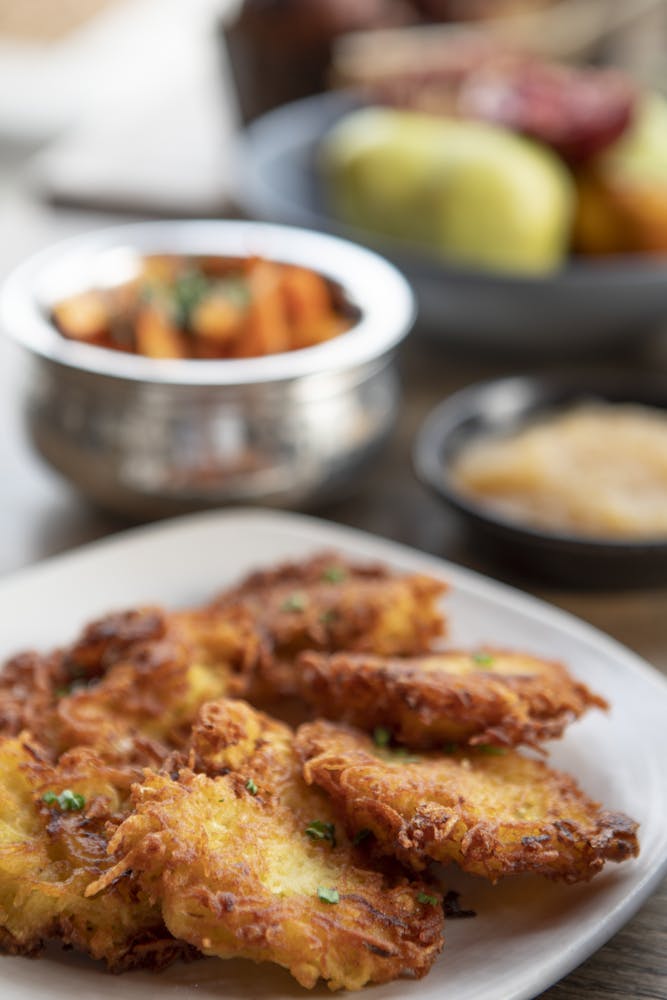 APPETIZERS
new fruits & local honey, apples, pears & pomegranates
chopped chicken liver & challah
green bean & walnut faux "liver" & challah
matzo ball soup, celery, carrots, parsley, dill
ENTREES
braised beef brisket
potato pancakes, apple sauce, green beans
SIDES
yukon gold potato pancakes, apple sauce & sour cream
olive oil roasted tutti-frutti farm's carrots, herb gremolata
DESSERT
apple-honey cake, green apple-bourbon sorbet
candied walnuts
chocolate dipped coconut macaroons