Main content starts here, tab to start navigating
Dinner
Dinner is served Wednesday to Sunday
5:30pm to 9:30pm
Dine al fresco on our front,
side & back patio
Please call 310.845.1700 after 5:30pm
to order take-out from our dinner menu.
ORDER FOR DELIVERY HERE AFTER 5:30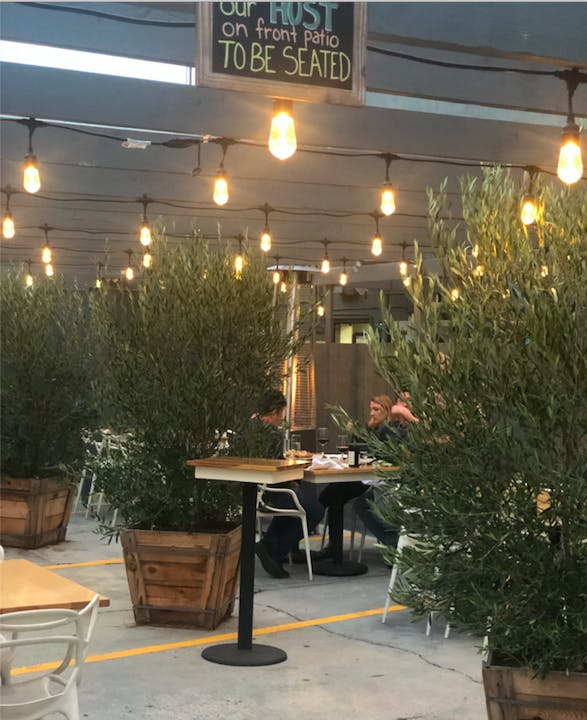 photo: anne fishbein
SNACKS
sev puri chaat-mumbai street food
teff chips, avocado, tomato, sev, chutney 8
cauliflower & eggplant fritters with basil aioli 9
chickpea hummus
olive oil, kalamata olives, crudite 9
tandoori chicken wings
mint relish, tamarind chutney 15
turkey meatballs nonna sauce
pecorino & basil, garlic bread 15
roman style pizza
vegan cheese on request 

tomato, mozzarella, basil 8
squash blossom & goat cheese 10
pepperoni & provolone 10


SALADS
gloria's arugula & nectarines
almonds, goat cheese, balsamic dressing 12
heirloom tomatoes
 & burrata, basil, fennel olive oil 13
roasted beets, avocado & cherry tomato

sunflower seeds, miso-sesame dressing 14
kale caesar 
grana padano, olive oil croutons 13
BOWLS
soup of the day cup 5 bowl 8
strozzapreti pasta

pine nut-basil pesto, broccolini, grana padana 14
cacio e pepe 

bucatini, pecorino, black pepper 15



quinoa & millet seasonal vegetables 14

tofu 16 lemon chicken 18 faroe island salmon 24
BIG PLATES
faroe island salmon & heirloom tomato butter
creamed corn, grilled romanesco zucchini 26
pan seared chicken breast romanesco cauliflower, carrot puree, sicilian olives, pan jus 24
bali tofu curry with black rice & vegetables 17


bali seafood curry black rice, shrimp, squid scallops, salmon & vegetables 25
flat iron steak roasted shallot vinaigrette
grilled torpedo onions
arugula & heirloom tomato salad 26
BURGERS
served with slaw, salad or fries (our fryer is gluten-free) 
sub onion rings +2 sub gluten-free bun +2
creekstone farm's beef burger
lettuce, tomato, red grilled onion, dill pickle chips, burger sauce, cheddar or gruyere 16 add bacon & onion rings +3
spiked turkey burger mixed with green olives jalapeño, red peppers & onion
, paprika aioli, lettuce, tomato, cheddar or gruyere 15
'beyond meat' burger grilled red onion, lettuce, tomato, burger sauce cheddar, gruyere or vegan gouda 16
SIDES
macaroni & cheese
 cheddar & provolone 12 

bacon & jalapeño+2
creamed corn 
just butter-no cream 8
grilled romano beans
cherry tomato & caper relish 12
romanesco cauliflower
raisins, green olives, almonds 1
eggplant 'parm', 
nonna's tomato sauce

mozzarella & basil 10
onion rings, paprika aioli & ketchup 8 

french fries, sea salt & ketchup 7 

sweet potato fries, smoked paprika aioli 7
DESSERT
vanilla bean crème brûlée, market berries 9
coffee ice cream pie
flourless chocolate cake, whipped cream 9
tenerelli orchards plum cobbler
vanilla ice cream or coconut soft serve 10 g-f
sorbet 3 a scoop
coconut • chocolate • lychee-blackberry sorbet
ice cream 3 a scoop
vanilla
vegan peanut butter chocolate chunk gelato
cookies 2 each
oatmeal-cherry chocolate (g-f)
tahini chocolate chunk (g-f)
triple ginger
snickerdoodle


Brunch
Saturday & Sunday
10a.m. to 2:30p.m.
MENU
DRINKS
sangria with market fruit 8
bloody mary & akasha's pickled vegetables 8
orange juice & cava mimosa 8
bottomless - 20 per person
(90 minute limit, with purchase of a big plate, burger or sandwich)
WINES BY THE GLASS 8
olema chardonnay, sonoma co, ca 2018
santi sortesele pinot grigio, valdadige, veneto, it 2018
olema cotes de provence, france 2019
chianti classico "san felice," sangiovese, tuscany, it 2017
BEER ON TAP 8
avery brewing co. - white rascal – belgium white ale
common space – yeasayer – west coast IPA
modern times – critical band – tropical IPA
smog city – little bo pils - pilsner
BAKERY
berry cake, citrus glaze gluten-free 4
bacon-cheddar biscuit 3.5
vegan or walnut-jam scone 3.5
banana walnut bread gluten-free 4
dark chocolate pound cake gluten-free 4
STARTERS
fruit salad, honey & mint cup 5 bowl 8
add organic yogurt or coconut yogurt +3

pumpkin seed & sunflower granola
oats, raisins, cranberries, cinnamon
milk or yogurt 7 sub coconut yogurt +3
avocado toast & petit salad
sunflower seeds, sesame lemon, radish, scallion 12
tuscan kale caesar
croutons & grana padano 13
roasted beets & avocado
local lettuce, cherry tomato, radish
sunflower seeds miso-sesame dressing 12
salad add ons
grilled chicken 3 baked tofu 3
faroe island salmon 9 fried egg 2
GRIDDLE
whole wheat buttermilk pancakes
blueberry compote & maple syrup 10
tiramisu french toast
brioche bread, mascarpone crema
chocolate-espresso crunch, maple syrup 14
SIDES
toast with house jam & butter 4
home fries with ketchup 5
turkey sausage 5 bacon 4
add a fried egg 2
french fries & ketchup 7
sweet potato fries & smoked paprika aioli 7
gluten-free onion rings, smoked paprika aioli 8
BIG PLATES
shakshuka
baked eggs, saffron tomato sauce, greens
french feta cheese, grilled bread 13
chilaquiles
fried eggs, tortillas, cotija, black beans, salsa guacamole, red onion 13
vegan with scrambled tofu 13 add chicken +5
brisket hash
poached eggs, onions, red peppers, fingerling potatoes 15
mushroom & kale scramble
goat cheese, toast, salad or home fries 15
house cured salmon egg scramble
caramelized onions, potato pancakes, sour cream
romeo's salad, lemon dressing 14
prosciutto eggs benedict
english muffin, hollandaise, salad or home fries 14
fried egg sandwich
english muffin or toast, arugula, basil aioli, cheddar
salad or home fries 12
turkey sausage or bacon +2.50
sub gluten-free bun +1
spiked turkey burger
mixed with green olives, onions & peppers
lettuce, paprika aioli, tomato, cheddar or gruyere 15
wanderer barley & grass fed beef burger
lettuce, grilled onion, burger sauce
tomato, dill pickles chips, cheddar or gruyere 16
with bacon & onion rings +3
fried chicken sandwich
slaw, pickles, sriracha aioli 16

'beyond meat' patty melt
rye bread, russian dressing
caramelized onions, vegan cheese 16
served with slaw, salad or fries
substitute sweet potato fries or onion rings +2
sub gluten-free bun +1
KIDS
two eggs your way
toast & butter 8 (jam on request)
chocolate chip pancakes or french toast slice
butter & maple syrup 7

½ size skillet macaroni & cheese
cheddar, gruyere & provolone 6