Main content starts here, tab to start navigating
DINNER MENU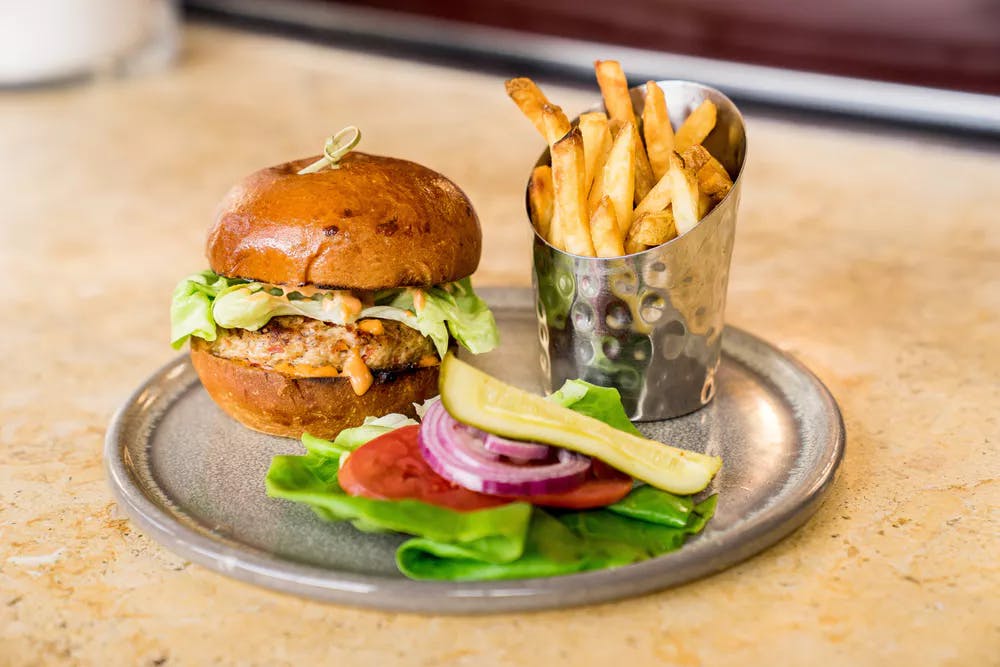 Wednesday, Thursday & Sunday
5:30p.m. to 9:30p.m.
Friday & Saturday
5:30p.m. to 10:30p.m.
ORDER ONLINE HERE
for curbside pick up or delivery
call 310.845.1700
SMALL PLATES
---
hummus tahini & lemon
olive oil, kalamata olives, crudite 10
short rib barbacoa tacos (2)
cabbage, salsa, cotija cheese 12
big eye tuna crudo
avocado, radish, tamari, citrus, fresno chile, cilantro, togarashi, 17
tandoori chicken wings
mint relish, tamarind chutney 16
turkey meatballs
nonna sauce, pecorino & basil, focaccia with garlic butter 16
roman style pizza
tomato, mozzarella, basil 9
mushroom, goat cheese & fonduta 12
fennel sausage, spring onion, mozzarella 13
vegan cheese on request
SALADS
---
regier family farms peaches
arugula, humboldt fog goat, candied pecans
golden balsamic vinaigrette 15
beet, avocado & cherry tomato
sunflower seeds, radish, sesame seeds
miso-sesame dressing 14
kale caesar
grana padano, olive oil croutons 13
BOWLS
---
soup of the day cup 5 bowl 8
strozzapreti pasta
creamy tomato-vodka sauce, parmigiano 16
cacio e pepe
house made spaghetti, pecorino, black pepper 16
BIG PLATES
---
scottish salmon
roasted onion & fennel, braised greens
grainy mustard sauce 30
chicken parmigiano
nonna sauce, mozzarella
milliken farm's broccoli & romanesco cauliflower 24

grass fed flat iron steak
white corn & cherry tomato relish, gloria's
green beans, arugula 32
bali tofu curry
black rice & vegetables 18

bali seafood curry
black rice, shrimp, squid, scallops
salmon & vegetables 27

BURGERS
---
served with slaw, salad or fries substitute onion rings +2 substitute gluten-free bun +2
grass run farms beef burger
lettuce, tomato, grilled red onion
dill pickle chips, burger sauce, cheddar or gruyere 18
spiked turkey burger
mixed with green olives, jalapeño, red peppers & onion
paprika aioli, lettuce, tomato, cheddar or gruyere 17
'beyond meat' burger
lettuce, tomato, grilled red onion, burger sauce, cheddar
gruyere or vegan cheese 17
SIDES
---
macaroni & cheese
cheddar & provolone 12
bacon & jalapeño+2
curry cauliflower
ginger masala, see canyon apricot chutney 12
onion rings
paprika aioli & ketchup 9
french fries
sea salt & ketchup 8
sweet potato fries
paprika aioli 8
miliken farm's baby brussel sprouts
thai sweet & sour chile sauce
turmeric & sea salt cashews 13
market carrots & green beans
manchego cheese & toasted almonds 13
DESSERT
---
meyer lemon cheesecake
cherry compote, whipped cream 9
murray farms berry crisp
almond coconut sugar streusel, cherry ice cream, gluten - free 10
gluten - free chocolate pound cake vegan
peanut butter gelato, chocolate sauce 9
sorbet
chocolate
tamai farms strawberry

ice cream
vanilla
cherry
coffee
peanut butter-chocolate chunk (vegan)
3 a scoop
cookies
oatmeal chocolate cranberry (g-f)
tahini-chocolate chunk (g-f)
triple ginger
snickerdoodle
vegan pecan chocolate chip
The consumption of raw or undercooked eggs, meat, poultry, seafood or shellfish may increase your risk of food borne illness. An optional 3% kitchen appreciation charge enables us to continue to pay competitive living wages to our back of house staff. Please let your server know if you would like it removed.